Suspended ceiling to the living room advantages and disadvantages of such an arrangement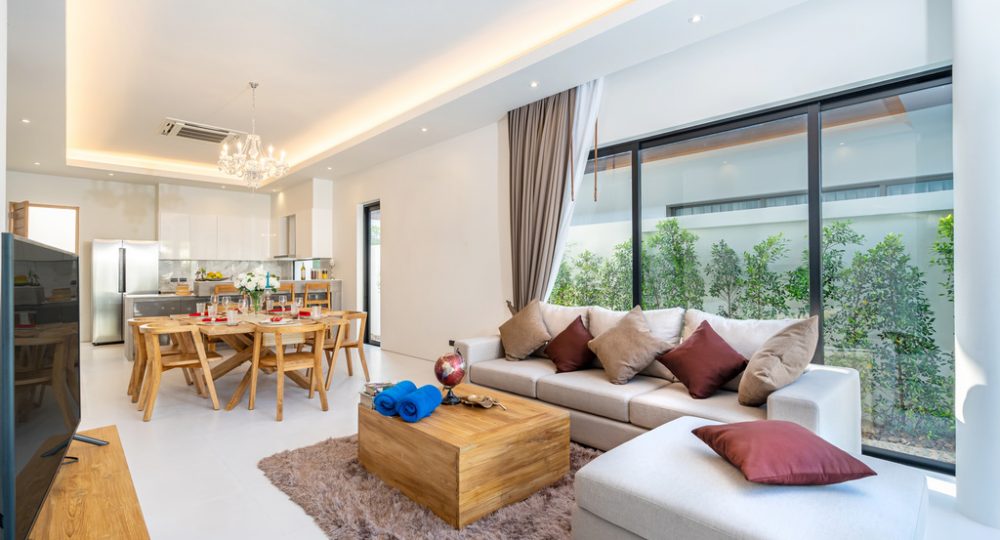 You need about 4 min. to read this post
Suspended ceilings have until recently been used mainly in office spaces. In recent years, however, they can increasingly be found in residential spaces, especially when it comes to living room interiors. So what is a false ceiling and what are its advantages and disadvantages?
What is a false ceiling?
A false ceiling is a specialist construction, which is based on frames, most often made of metal, to which plasterboards are mounted. It is made by screwing frames made of steel to the ceiling and walls which are in contact with it, and then screwing plates, which can be not only gypsum-cardboard plates, but also wooden or metal ones. However, the most popular is the classic option in the form of plasterboards, which allow to finish them in any way, thus providing many arrangement possibilities
Why is the popularity of false ceilings in living rooms?
Suspended ceilings allow, above all, to emphasize the interior design in a simple and effective manner. They perfectly harmonize with interiors of both classic and modern style. Especially if in case of the latter they are combined with lighting recessed into their surface. These types of structures are also characterized by high functionality, as they can be finished both in a classic way with paints, as well as with tiles or mirror elements, optically enlarging the interior
Advantages of suspended ceilings
Like any solution also suspended ceilings used in living rooms have both their advantages and disadvantages. But let's first focus on the pros of this type of construction in living spaces
The main advantage of suspended ceilings is that they are quick and easy to install, so you can efficiently finish the interior. Moreover, thanks to their construction they can also effectively lower the ceiling, therefore they are very often used in old buildings
In addition, suspended ceilings also have a positive impact on the thermal comfort of the interior, as they allow for the use of an additional layer of insulation under the panels, for example mineral wool. At the same time in such a situation the acoustic comfort of the interiors with such ceilings is also automatically improved
The use of false ceilings will also be perfect in apartments located in attics. It allows to effectively and aesthetically hide small slants and balance the proportions of the interior. It is also a great element to mask electrical wires, especially when using spot interior lighting
Disadvantages of using a suspended ceiling
Suspended ceilings in living rooms, however, are not only pluses, but also minuses, among which should be mentioned first of all that they adversely affect the structures of the ceilings of buildings, overloading them. Therefore, their implementation is not always possible, especially in the case of old buildings. In addition, cardboard-plaster plates, which are the main building blocks of this type of ceilings, are also much less resistant to moisture, so performing such a construction in the case of living rooms connected with kitchen annexes is also not the best idea
It is also impossible to install heavy lamps on them in the form of impressive chandeliers, which could weigh down the entire structure too much
>> See also: What kind of lighting should I choose for an apartment in the attic?
What should be considered when installing a false ceiling in the living room?
Regardless of the advantages and disadvantages of false ceilings, during the installation you should first of all pay attention to the fact that the metal frame, on which plasterboards are to be fixed, should be distributed appropriately densely, providing them with proper support and stability. It is also important to maintain the proper level of this type of tiles, which not only affect the aesthetics of the ceiling, but also the possibility of installing on it, for example, lighting
Summing up, suspended ceilings in living rooms are recommended in particular where there is a need to reduce the height of the ceiling. However, they should not be used in interiors exposed to increased humidity.