You need about 4 min. to read this post
The red brick once used as the main building material, especially in the Gothic period, whose legacy is the elaborate churches and cathedrals admired and appreciated to this day, has become a permanent feature of architectural history
Today, however, it has given way to more modern materials. This does not mean, however, that it has been completely forgotten, only changed its use, which now has a decorative value. Therefore, we suggest when to decide on it in the living room!
What style does red brick suit to
Thinking about bricks in interiors, we most often think about those in classic red, falling into orange tones. Although it is worth to know that it exists also in other shades, today we will focus on this most classic one
Red brick due to its slightly industrial appearance will look best in interiors decorated in classic and rustic style. It is also a great idea to use red brick in industrial and loft interiors where it will ideally supplement metal details with its rawness which is a characteristic feature of this type of rooms. On the other hand, it will add the appropriate character to minimalist arrangements so that they will not be boring and monotonous
In fact, the red brick is so universal material that it can be successfully matched to almost any style, regardless of the room. It works well not only in the living room, but also in the kitchen and bathroom, and its location in the interior depends only on imagination and individual preferences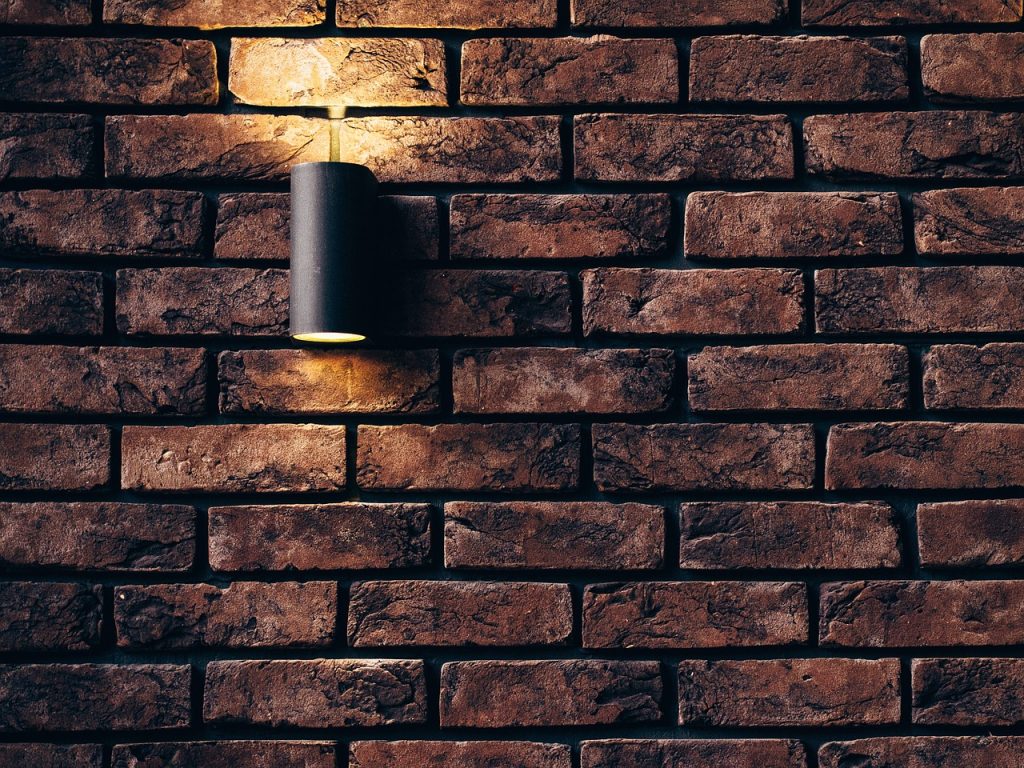 3 ideas for a brick in living room
If you like the effect that a brick wall provides in the living room interiors, but you are not quite sure how to apply it to achieve a consistent and stylish effect, below you will find three ways to use red brick in this interior
Background for RTV equipment
An extremely fashionable way to locate red brick in the living room is to create with its use a background for audio and video equipment such as televisions, for example. It is enough to finish the wall on which it is to be hung with the help of red bricks in order to obtain a contrasting effect. Such a brick wall will be perfect even in small living rooms without optically reducing the room.
>> See also: Kitchen in pastel colors
Contractual border between the living room and the kitchen
Application of red bricks in the living room will be also perfect in case when it is combined with kitchen annex, thus creating one spacious room. In this case, it is enough to finish the wall leading to the kitchen with brick to conventionally mark the boundary between the zone of rest and food preparation, thus gaining a stylish interior
Industrial lounge area
The last of our ideas for brick in the living room is to arrange with its help an industrial lounge area. It is enough to cover with it the wall behind the sofa, on which we usually lie down in the evenings after a hard day, and then hang on it very fashionable neon lamps to obtain modern and at the same time cozy character of this part of the living room, which will be conducive to relaxation and calming down. Such arrangement can be additionally supplemented with a metal table or other industrial accessories. So as you can see, the red brick in the living room gives many arrangement possibilities. It is also worth remembering that nowadays, it can be applied even in new apartments. It is enough to bet on clinker tiles, imitating real brick, available in most DIY stores or online stores with finishing materials.