You need about 4 min. to read this post
Wondering what's better for your floor – panels or tiles? Read our article and find out!
For the kitchen
Kitchen tiles can be a good solution for the kitchen floor. If you choose good quality tiles, they will withstand all the elements that you may encounter in the kitchen. It is important that the tiles are resistant to high temperatures and contact with moisture, as well as to scratches. Tiles as a floor finishing material have many advantages. First of all, they are easy to keep clean. They do not absorb water and are resistant to moisture. This is the most important point that tiles can be a better option than laminate for the kitchen. The advantage of laminate is that it is quicker to install than tile
For the bathroom
When it comes to bathroom flooring material, it is also very important that it is moisture resistant. It is also worth choosing one that gives the possibility of installing heating under the floor. Therefore, bathroom tiles are the most common choice. They are made of different types of materials, such as glazed stoneware, terracotta or clinker. There is also a lot of choice when it comes to the shape of the tiles. Remember to take into account the resistance to mechanical damage, slip resistance and abrasion resistance
Instead of tiles for your bathroom, you can also choose vinyl panels. Their big advantage is that if there is any damage, you can simply replace the faulty panel without having to tear up the entire floor, because they are installed with glue or snaps. Vinyl floors are also durable and resistant to damage and detergents
For the living room
The living room is one of the most representative rooms in a house or apartment, so it is worth making every effort to make it look as aesthetically pleasing as possible. The panels in the living room are currently chosen by most people. This is due to the relatively low cost and the fact that the panels can give the living room an elegant, classic look. The use of wood will be more expensive than a laminated floor, but you have to remember that even among the panels there will be some that may cost too much. Most panel models have a simple installation system, but in the case of rooms with an unusual shape, trimming is necessary
In modern construction it is more and more common to finish the floor with tiles even in the living room. It is worth remembering that the tiles should have an appropriate texture. Tiles that resemble wood are an interesting solution. Larger and brightly colored tiles are recommended for the living room. This will allow for brightening and optical enlargement of the interior. In case of installation of tiles in the living room, it is also worth thinking about floor heating, as the floor in this room is quite heavily exploited.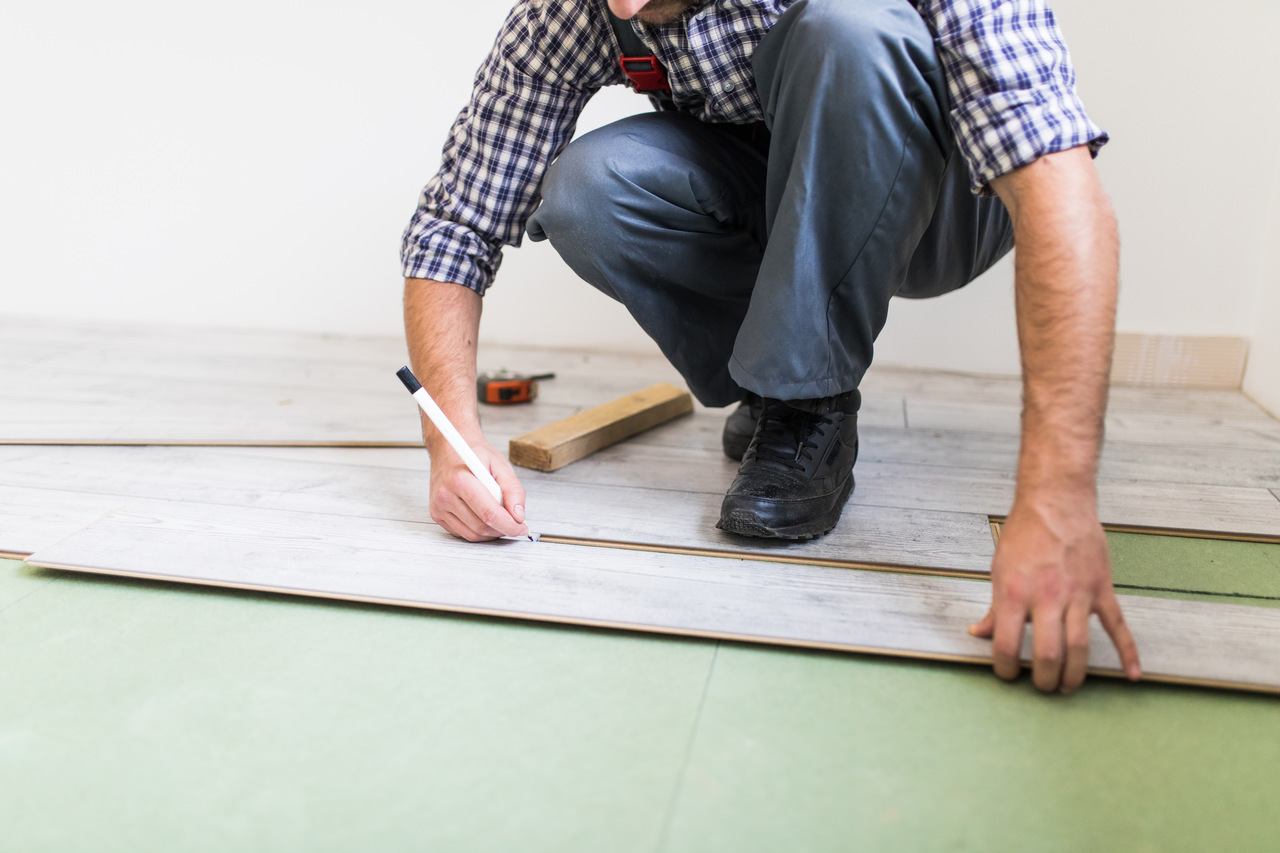 For the bedroom
The most important thing in arranging bedroom interior is to make it comfortable and cosy. That is why it is worth choosing such flooring, which will give proper character to the bedroom. In such a situation a wooden floor is a great choice. Natural wood blends in well with a variety of styles, but you do need to maintain it regularly and make sure it doesn't get damaged. A good alternative may be wood-effect tiles, which imitate wood and are resistant to damage.
Manufacturers offer a very wide range of different types of both tiles and floor panels. Tiles are available not only in different sizes, but also in patterns, colors and different sizes. So they are a good option for anyone who wants to be original and, for example, create a mosaic on the floor.