Makeup corner in the bathroom – what do you need to know about choosing lighting?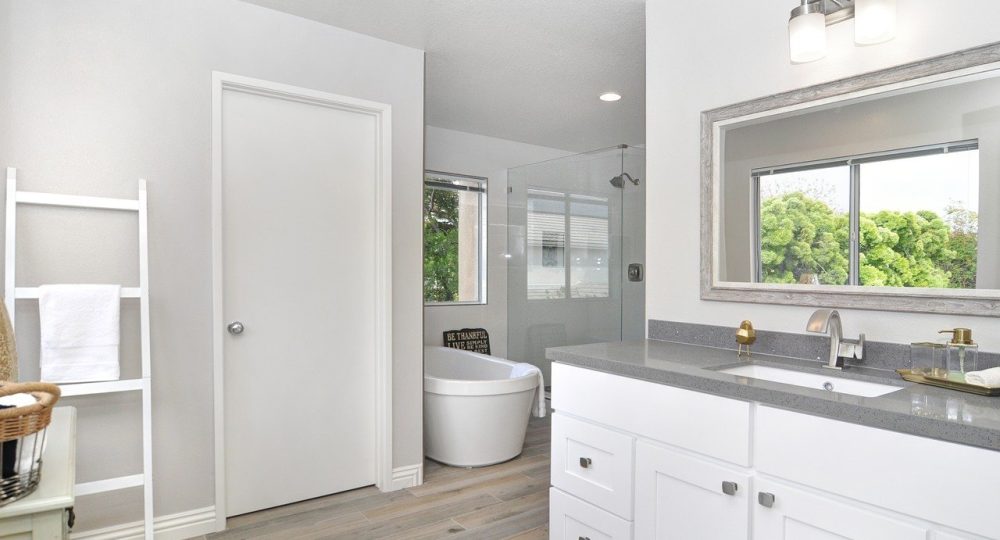 You need about 3 min. to read this post
Lighting in the bathroom is an important issue that needs to be taken care of during the arrangement, especially if we do not have a window in this room. With skillfully selected lamps, performing all hygienic activities and beauty treatments will be much more comfortable.
Most standard bathrooms are devoid of a window. In their case, artificial lighting is a must. We should take care to design it properly to create comfortable conditions for performing daily beauty rituals. Many women in bathrooms also arrange a corner where they will paint themselves. Makeup is best applied in natural light, but this is not always possible. We suggest how to choose lighting for the makeup corner in our bathroom.
How to plan lighting in the bathroom?
In the bathroom it is worth placing several sources of light. The most important is ceiling lighting. The main lamp should emit light with a temperature of 3600-4000 K (Kelvin). Functional lamps with a temperature of 4000-5000 K will be useful in the area of the mirror and shower or bathtub. We can also deploy decorative lamps. In their case, incandescent lamps emitting light with a temperature of no more than 3200 K will suffice.
Due to the fact that the bathroom is a room with increased humidity, the lighting should meet IP protection standards. The best choice will be light sources with an IP44 rating, resistant to water splashing in from all sides. Sockets also need to be "splash-proof." Remember not to place them too close to the bathtub, sink or shower entrance. The distance of the socket from these places should be at least 60 cm.
What kind of lighting for the makeup corner in the bathroom?
We already know the basic principles of lighting design in the bathroom, so now we can lean into our makeup corner. First, let's focus on choosing the right color of light. If we choose it correctly, the skin will have a natural tone in the light, making it easier to apply cosmetics, especially foundation, powder, blush or eye shadow. The best choice will be a light with a neutral color, most similar to daylight, whose temperature is 4000-5500 K. With such lighting, the skin does not look too yellow or pale. It is also worth opting for lighting with a color reproduction index of CRI>80, as it renders colors true and helps to notice even the smallest makeup imperfections. We still need to mention the power of the light. When applying makeup, a light source of 500 lux to 1000 lux will work best.
Bathroom ceiling lighting may be insufficient if you want to apply makeup in this room. Painting yourself will be made easier by single lamps placed around the mirror. The best solution would be to place one lamp for each side of the mirror. When doing so, remember to choose such light sources that provide diffused rays, as they do not cast shadows, but carefully illuminate the entire face.
In the bathroom, it is better to give up pendant or floor and table lamps with 220-240 watts. This type of lighting does not work well in a room exposed to moisture.
main photo: pixabay.com/stellalunacypress